_______________________________________
Nursery
2020-2021
_______________________________________
_______________________________________
This year all of the classes in school are named after countries
This year we are
England Class
The adults in Nursery are Miss King (Nursery Teacher) and Mrs Schofield (Nursery Nurse)

_______________________________________
_______________________________________
50 Things to Do Before You're 5!
Tick-off 50 fantastic things for you and your child to experience together.
50 Things To Do Before You're Five gives you 50 activities that parents and carers can support their children to try out and repeat.
They are low-cost/no cost experiences that include indoor, outdoor, seasonal, home-based and out-and-about activities, that are not only fun but will get your little one off to a flying start with his/her learning and language development.
You can download the FREE 50ThingsWakefield app via this QR code: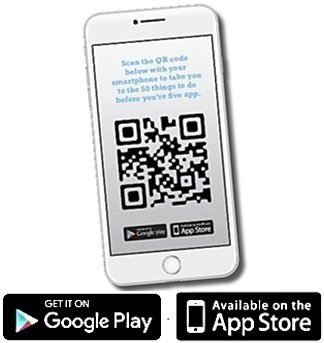 Why not also download the 50ThingsWakefield poster - print it, display it on your fridge and start ticking off those activities!
Click here to download your poster.
The website for this fantastic scheme is:
https://wakefield.50thingstodo.org/app/os#!/whats-it-all-about
______________________________________
_______________________________________
Reading In Nursery
Bookstart Autumn Term
The Bookstart Treasure title for our Easter and September starters is 'Octopants' written by Suzy Senior and illustrated by Claire Powell.
You will by now have all received your copy of the book.
Please share this regularly with your child.
When you are familiar with the text please click the link below for some fantastic ideas on how to support your child's learning across the curriculum using the book as a stimulus!
CLICK ME FOR WONDERFUL OCTOPANTS ACTIVITIES AND IDEAS!
_______________________________________
_______________________________________
Nursery Curriculum
Autumn 2020
Our Creative Theme is 'Will They Live Happily Ever After?'
Throughout the term we will be reading a large selection of Tradition Tales including Little Red Riding Hood, The Three Little Pigs, The Three Billy Goats Gruff, Jack and the Beanstalk, and The Gingerbread Man.
We will be planting beans like Jack, taking a walk though the forest like Little Red Riding Hood, visiting the goats (hopefully there won't be any trolls around) and icing gingerbread men!
There are a number of festivals that take place over the next coming months. We will be learning about, and participating in, Diwali, Bonfire Night and Christmas celebrations - creating Diva lamps, baking Firework bread and making Christmas Cards for loved ones.
_______________________________________
Nursery 2019-2020
This year our class name is Holmes.
Autumn 1
Children will be settling into life at Snapethorpe Nursery, getting to know their new teachers, making friends and finding their way around the indoor and outdoor classrooms. The children will be encouraged to learn alongside and with their peers in order to form positive relationships and develop their personal, social and communication skills.
Our Creative Theme for Autumn 1 is 'People!'
During this theme children will have discussions about what they already know about people.
Autumn 2 Theme 'Celebrations!'
Children looked a lots of celebration pictures from birthdays, weddings, Christmas, Easter and lots more.
The Morning children wanted to know more about weddings.
The children looked at wedding photographs and practised taking photographs themselves. They made wedding favours (bracelets), looked at wedding outfits. They used Purple mash to design their own wedding cake and then baked the wedding cake.
The friendship wedding of the year!
The afternoon children wanted to learn about dancing and the Chinese New Year.
The children explored colour mixing to create their own Chinese Dragon.
Morning children
We made shape aliens and gave them alliteration names, we made aliens using salt dough and k'nex.
Afternoon children
We made shape aliens and gave them alliteration names, we made aliens using salt dough and k'nex.