Robinwood Residential - 17th November 2016 - 19th November 2017
Friday 17th November 2017
After a tiring trek up to the castle, we finally arrived at our destination. We were all very excited to meet our group leaders: Tom (Wave), Charlotte (Iceberg), Kurtis (Whirlpool) and Donna (Ocean). Then we were taken to our dormitories, we selected our bunks and got on with the very tricky task of making our beds (the teachers found this very entertaining to watch)! Once this had happened and we had devoured our lunch, we were ready to go and get on with our activities. We were put to the test straight away with some problem solving and facing our fear of heights. Friday seemed to pass like a blur and before we knew it, it was 9.30pm and we headed back to our dorm rooms to grab some sleep ready for the fun events of Saturday.
Saturday 18th November 2017
After a good nights sleep for most of us (some of us enjoyed chatting to the early hours) ... we enjoyed a 'late' breakfast (7.30am)! We discovered that Miss White and Mr Tyrrell are NOT morning people but once they had had a cup of coffee they were ready to go and put themselves to the test along with our groups. Our day was non-stop, we canoed, zipwired, climbed and even squeezed in lunch and dinner. We also had a surprise visit from Mrs Summers who could not believe how brave we were when leaping off the trapeze!
In the evening, we participated in a Lego challenge where we had to create our own 'Robinwood Centre' the requirements were: centre, activities, an instructor, a chicken wrap, 7 cabbages and a dragon. We used our creativity to make some of the most amazing lego models you have ever seen. During this time a couple of us were so exhausted from all the activities that we fell asleep where we sat, with one of us having to be carried to bed!
Sunday 19th November 2017
On Sunday we woke up even earlier to get a head start on the day. We completed our final three activities and the teachers couldn't believe how much we had all developed in confidence, team work and communication. Over the course of the weekend we had faced our fears and learned how to be kind, caring and supportive individuals. These are skills we hope to take back into school where we can show others how much we have changed over the course of just one weekend!
Robinwood Residential - 4th November 2016 - 6th November 2016
Friday 4th November 2016
1.45pm - Children have arrived at Robinwood. Everyone has had their lunch are are now ready to start the afternoon activities. Everyone has had a go at making their own beds.
2.00pm - We have begun our knights challenge and had to collect tokens whilst navigating an obstacle course. We really worked well as a team with lots of kind words of encouragement. We successfully rescued the key from the well and discovered the secret ...
Whirlpool Group at the end of knights challenge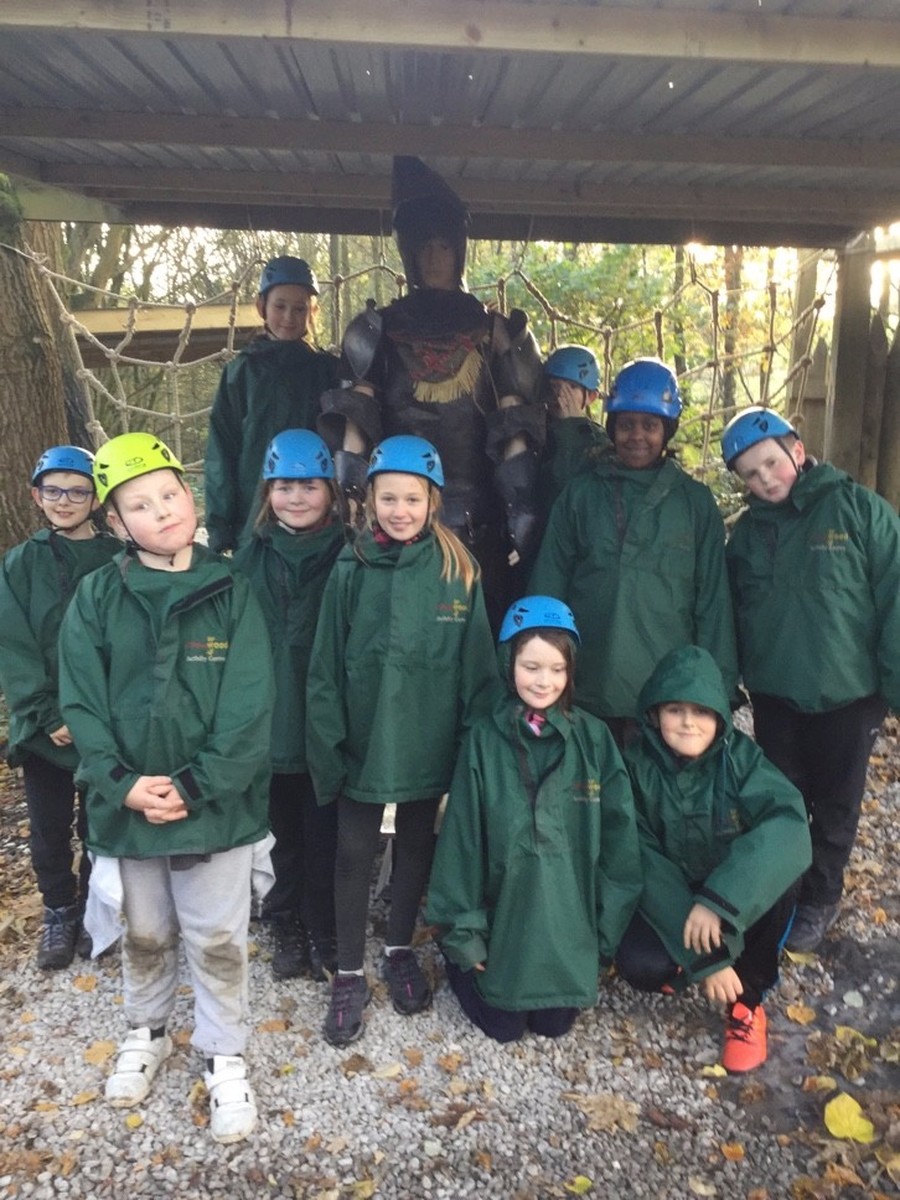 4.00pm - Wave team have been busy travelling on the nightline course, they were completely in the dark. They had to avoid very naughty squirrels too. After that, the team hit the climbing wall, supporting each other as they went.
5.20pm - sitting down for dinner after a very busy day. Two more activities until we can go to bed and get some rest!
6.30pm - Ocean and Wave groups go head to head against the teachers to see who can create the best rocket. The three challenges test the rockets aerodynamics in terms of: height, distance and accuracy. Who will win ...
Saturday 6th November - Our morning activities at Robinwood...
Whirlpool had a great time in archery. We played snakes and ladders, where we had 1 arrow each and had to score as many points as possible to move along then game board. Lots of us managed to hit gold, we have a potential Olympic archers in our midst.
12.00 - Whirlpool group before the great canoeing incident 2016 (Mr Pedley and James have just dried out and their wellies have been emptied). Miss White was delighted to have avoided being pulled into the lake during the capsize!
Saturday 5th November - Our afternoon activities
Whirlpool group enjoyed a busy afternoon creating rockets for launching and also trusting in their friends to get them through the night line challenge. Special mention goes to Vadims and Julia for being so supportive to their friends! Great work guys!
Ocean and Wave groups enjoyed conquering a great height to get onto the trapeze - fantastic encouragement for your friends. Our final activity of the afternoon was caving.
Robinwood Residential - November 2015
The year 5 and 6 children who went to Robinwood this year had a fantastic time even though the weather wasn't on our side. It couldn't have been more wet!!!! They all tried every activity despite their fears and worked exceptionally well as a team, building new skills and developing their confidence. Have a look at some of the fun they had.