If your child is 3 or is approaching their 3rd birthday please pop into our school office and put their name on the waiting list to make sure they do not miss out on a place at our Nursery!
Nursery
__________________________________
Have a nosey around the Nursery by watching our slideshow below:
__________________________________
For the academic year 2017-2018 our class author is
and our class name is the

__________________________________
The Nursery Class Teacher and Early Years Foundation Stage Leader is Miss Daley.
The Nursery Nurses are Mrs Kelly (Circles - Monday and Friday), Mrs Schofield (Circles - Tuesday, Wednesday and Thursday), Mrs Fisher (Triangles) and Miss Renshaw (Squares).
__________________________________
In the Nursery we currently have two pet Goldfish. Their names are Kendall and Kylie. The children take good care of the fish, feeding them and helping to keep their tank lovely and clean. Kendall and Kylie are an important part of Nursery life, they give the children a real-life experience of growth, decay and changes over time and enable them to talk about animals they have observed.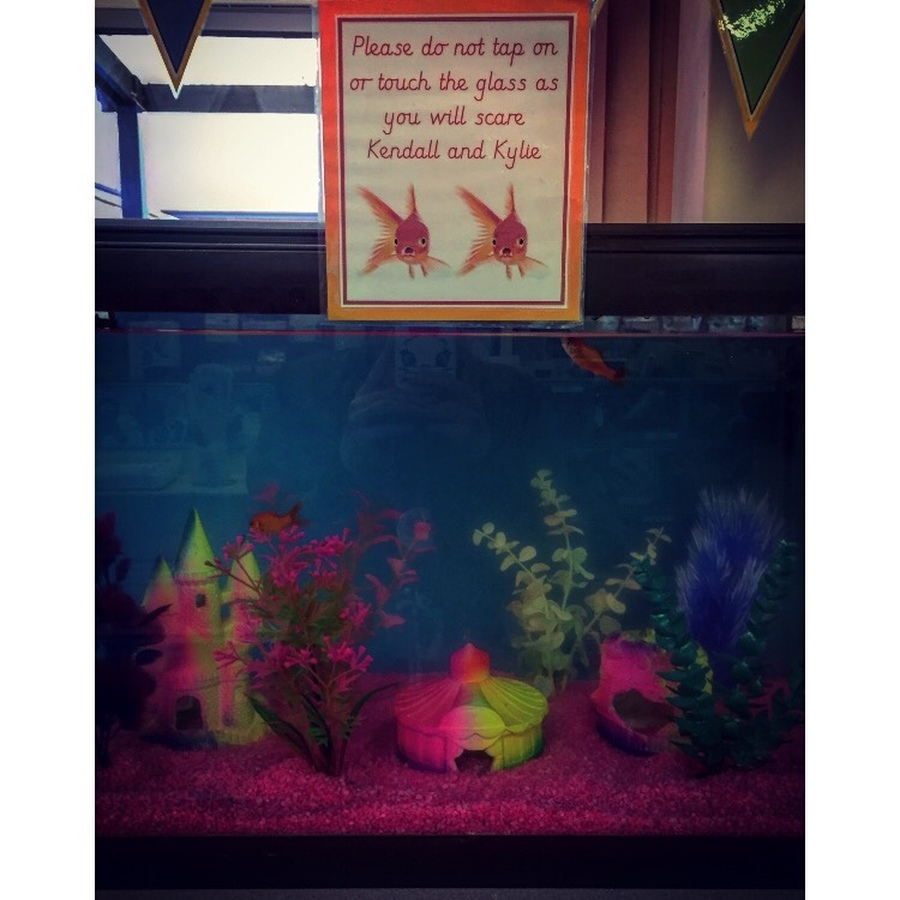 __________________________________
Stay up-to-date with all of the latest Nursery news by clicking on the links below:
__________________________________
__________________________________
__________________________________
The Great Broadway Bake Off!
Autumn 1:
In week 1 the children made crispy buns to sell at our Autumn School Fair. They demonstrated an emerging awareness of hygiene by washing their hands before baking and commented on the changes in the chocolate after we popped it in the microwave.
The following week we iced and decorated biscuits to eat during Golden Time as a special treat!
The week after we baked our own biscuits which we flavoured with either strawberry, orange or vanilla - they were delicious!
In week 5 we used our left over bananas from snack time to make a banana loaf which was very moist.
In week 6 the children made toast. They commented on how the bread changed in temperature and texture after it was toasted and used a knife with emerging control to spread on a topping!
Autumn 2:
In week 1 we made ginger biscuits just like on the 'Great British Bake Off'! Our biscuits had a great 'snap' - Paul Hollywood would have been proud!
Last week we made hot chocolate with tiny marshmallows after we were inspired by the book 'Marshmallows for Martians'!
This week we decorated alien biscuits for a picnic just like in our book of the week 'Alien Tea on Planet Zum-Zee'!
The children will be baking and cooking on a regular basis this year so please keep checking the slideshow below to see what other culinary delights we rustle up!
__________________________________
Autumn 1
What Goes on in a Place Like This?
Our Creative Theme for Autumn 1 is 'What Goes on in a Place Like This?'
Throughout the Creative Theme we will take the time to learn about one another, our local community and our school. Personal, Social and Emotional Development will be our main focus and we will be learning about how to get along with other children, how to share and how to build positive relationships with the teachers and our peers. We will decide what our class Mission Statement and rules will be and we will get to know the daily routine that takes place in the Nursery. We will be encouraged to take in our surroundings and discover how to use the continuous provision independently. We will take a tour around the school to meet the people who keep the Snapethorpe running and visit places such as the main hall, the school offices and the kitchen. When learning in the outdoor classroom we will be looking for signs of Autumn and seasonal changes - I am predicting lots of jumping in muddy puddles and stomping on crunchy, fallen leaves!
Keep checking our page to find out just exactly what does go on in a place like Snapethorpe!
All of our new to Nursery children have settled into life at Snapethorpe beautifully. They have been exploring the indoor and outdoor classrooms, making friends and participating in a range of focused activities with their Key Workers. See them learning through play above!
__________________________________
Autumn 2
Aliens, Aliens, Where Are You?
Our Creative Theme for Autumn 2 is Aliens, Aliens, Where Are You?'
Throughout the Creative Theme we will be learning about space and being imaginative when it comes to making aliens with a variety of construction materials. We will be creating space themed marble paintings as calendars and will also be enjoying a visit from creative writer and poet Conrad Burdekin. We will then be moving onto some festive activities including making Christmas Cards for loved ones and rehearsing for our 'Wriggly Nativity'!
Keep checking our page to see what happens when we go looking for aliens!